Children's Dentistry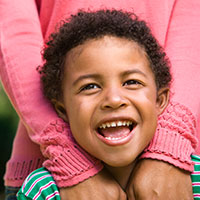 We love to see the smiling faces of our young patients. Whether your child is seeing us for the first time or has been coming to us for years, we strive to make every visit fun. This starts with a strong dose of education that allows our visits to focus on cleanings and prevention, not cavities. Our hygienists have received specific training to work with kids and their unique dental issues and questions, and we utilize the latest technology to provide the best care.
At the same time, we realize you are busy. We respect your time by starting appointments on-time, and we offer convenient before and after school appointments. With seven hygienists, we are also able to see multiple kids at the same time – saving you time and money.
Of course, all kids are welcome to spend a few minutes in our play area and to select a special prize from our treasure chest. Our goal is to create a place where little ones feel happy, welcome, and relaxed – whether they just got their first tooth or are ready to head to college.