Crown & Bridge
Bridge the Gap in Your Smile with a Custom-Made Crown & Bridge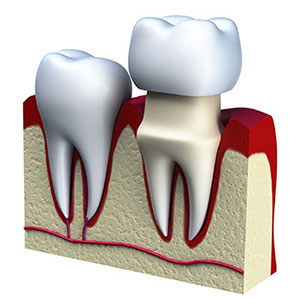 Do you have missing teeth because of an accident, severe decay, or gum disease? If you do, talk to our team at Gardner Dentists about replacing what you have lost. With a full smile, you can enjoy a number of benefits, from a greater sense of confidence to a more youthful appearance and better chewing and speaking ability. What's more, a full smile will prevent nearby teeth from moving out of alignment. If you have a missing tooth, don't put off restorative care with a crown & bridge.
What Is a Crown & Bridge?
Also known as a fixed bridge, a crown & bridge is a custom-made restorative piece that replaces missing teeth. A traditional crown & bridge attaches to one or more healthy teeth with custom-made abutment crowns. By using healthy teeth as anchors, your crown & bridge will give you solid results that improve functionality and appearance in just a few visits.
More Support with a Dental Implant
As effective as a traditional crown & bridge may be, patients can enjoy even better results with an implant-supported bridge. Instead of using one or more abutment crowns to stabilize your new teeth, an implant-supported bridge uses one or more titanium implants. Your implants will act like prosthetic roots by fusing with your jawbone and promoting bone growth.
This is important, as it only takes a single missing tooth root to change your smile. Over time, the area where you no longer have a root will weaken. As it does, you may lose other teeth as well. An implant-supported bridge will help you support and strengthen your jaw by stimulating new bone growth in the jaw long after you have lost your natural root.
Not every patient is a candidate for implant dentistry, though. If you'd like to know if an implant-supported bridge is right for you, Dr. Markway and Dr. Haworth would be happy to talk to you about your options. All it takes is a simple consultation appointment.
Call Gardner Dentists to schedule an appointment with our team. Conveniently located east of Moonlight Road off 56 Highway at 115 N. Moonlight Rd. Gardner, KS, Gardner Dentists provides comprehensive dental care for the communities of Gardner, Olathe, Spring Hill, Paola, Baldwin, Ottawa, Lenexa, Lawrence and Overland Park, KS.