We're Moving Spring 2020
Gardner Dentists LLC is excited to share we're building a new dental office! Our new building will be located at 115 N. Moonlight Rd. in Gardner KS (off 56 Highway; directly east of Central Bank, and south of Fronteras Restaurant and Children's Lighthouse). Construction begins June 2019, with anticipated completion Spring 2020. Follow our progress and see our beautiful new office from start to finish here, or on Facebook at www.facebook.com/gardnerdentists
[Please note: We'll continue seeing patients at our current location until construction is complete.]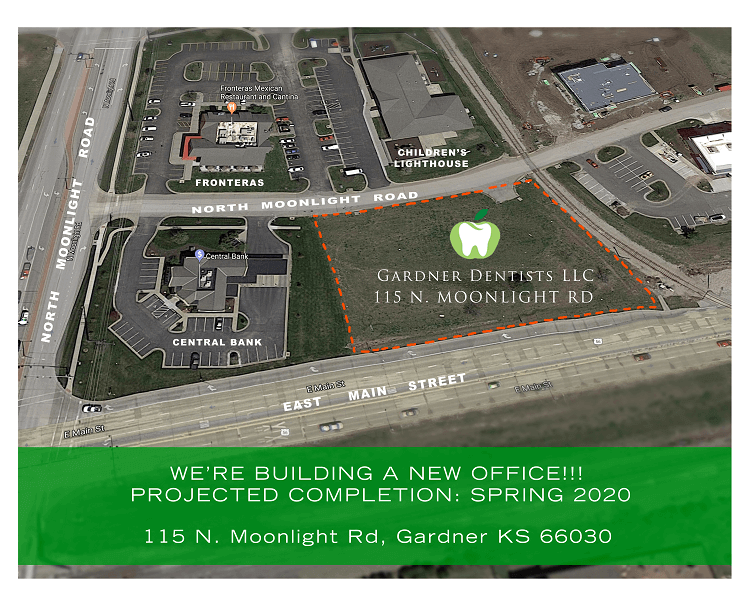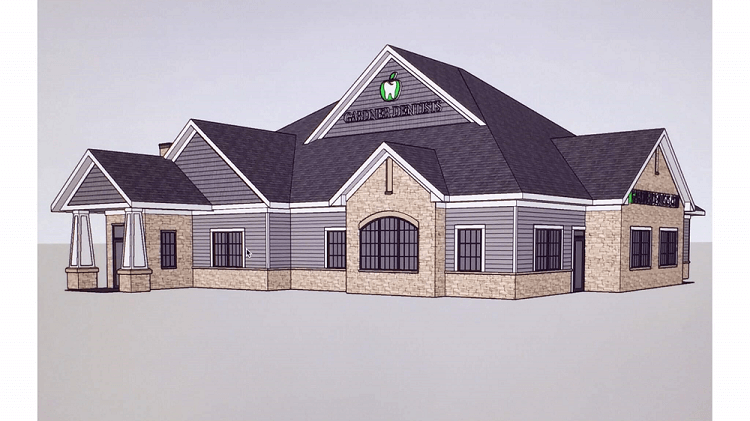 ---
June 2019 Progress
We were lucky enough to score several consecutive days of sunshine this week, allowing the construction crews to take advantage of the dry weather. Progress was made as the excavation crews cleared and staked the land in preps for pouring the building pad.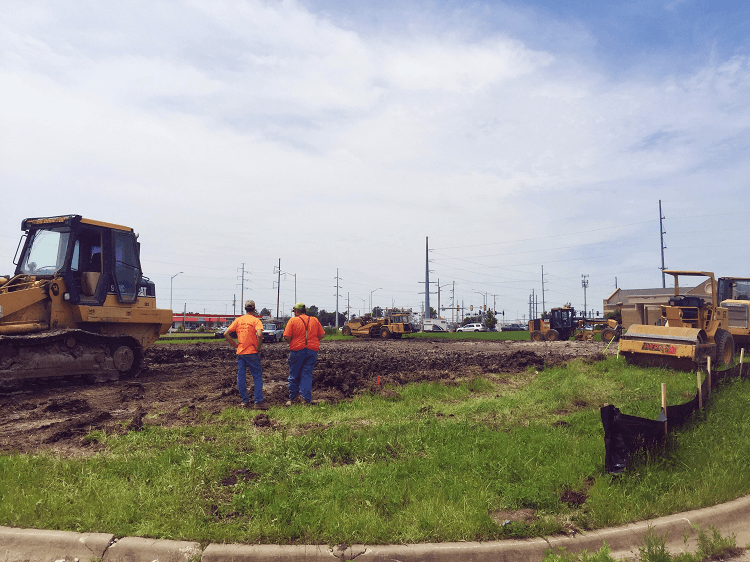 Trenches awaiting concrete. All crews were on deck, hard at work, as they began laying the concrete perimeter in prep for the building foundation. Exciting to begin seeing the foundation outline take shape!
Running plumbing, and framing for the foundation. A dental office requires lots of special plumbing, so major kudos to the team who's facilitated this critical component. Gotta have water to 'swish swish' after those dental cleanings! :-)
---
July 2019 Progress
What a busy month it's been around here! We're thankful for the continued run of ample sunshine, which has allowed the crews to make lots of progress.
Foundation being poured.
Walls are going up!
View from 56 Hwy. The two construction workers, (pictured left side of image), are standing in what will be the main entrance.
---
August 2019 Update
August kicked off with additional site work (utilities, parking lot preparation), and the framing crew beginning install of the roof trusses. It's really beginning to take shape.
---
Dr. Haworth standing inside our future lobby, working on landscaping plans.
With the rain this month, it was a very welcome sight to see the roof being completed, and shingles installed. Another exciting development is the exterior facade being prepped for stonework.
---
September/October 2019 Update
To this point, there hasn't been much development inside the building, but that quickly changed this month with framing crews erecting interior walls, and HVAC, electrical and plumbing crews began running ducts, cabling, and piping.
Dr. Haworth and Dr. Markway onsite checking in on the new space……strategizing where they intend to fly their KU and Mizzou flags.
Work crews continue hammering out all that's needed to get the exterior completed before fall sets in. Roof is complete, finishing touches of stonework being wrapped up as well.
Our team is LOVING all the windows and the the bright, open feel they create. Moving day can't come soon enough.
---
November 2019 Update
---
UPDATE - it's official, we MOVED into our new building February 24th, 2020. Don't forget to plug our new address into your GPS before your appointment. We're now located at: 115 N. Moonlight Rd Gardner, KS 66030