Orthodontic Care for Gardner, Spring Hill and Olathe, Kansas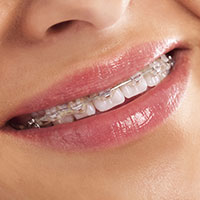 If you missed the opportunity to have braces during childhood and now you'd like to straighten your teeth, then Gardner Dentists has orthodontics that will help you achieve beautiful results minus the traditional metal brackets and wires. A straight smile is not merely a feature that is attractive and worth sharing with family, friends and colleagues. With straight teeth, you'll have a healthier smile, too.
When teeth are crooked, there are more tight spaces where bacteria and plaque can hide. As a result, your teeth are more vulnerable to tooth decay and gum disease. A straight smile, on the other hand, not only gives bacteria and plaque fewer places to hide and grow, it is also easier to clean. So, your new straight teeth will give you a marvelous smile and better wellbeing.
Invisalign and ClearCorrect

Both Invisalign and ClearCorrect, as their name suggest, straightens teeth almost invisibly. You and the team at Gardner Dentists may be the only ones to know that you are even having orthodontic treatment.
Instead of using an arch wire that applies continuous pressure to metal brackets and teeth the way traditional braces do, Invisalign and ClearCorrect utilize a series of clear plastic aligners that use controlled force to move teeth into their proper position. You'll be given a series of sets of aligners—one for your upper arch and one for the lower—that are specially designed for your unique orthodontic case. About every two weeks, you'll advance to the next set in the series and watch your teeth gradually shift.
For the best results, Dr. Haworth and Dr. Markway would like you to wear your Invisalign or ClearCorrect aligners for 20 to 22 hours every day. Unlike traditional braces, however, you will remove your aligners to eat and drink your favorite foods and beverages during your treatment. Likewise, you'll be able to take out the aligners to brush and floss your teeth, which makes maintaining your oral health much easier during the course of treatment.
Six-Month Smiles
Would you be happy and satisfied with your smile if you could fix just one little thing? And if you could make that fix in a relatively short amount of time, wouldn't that be even better? If you answered, "Yes," to these questions, then we'd like you to consider Six Month Smiles. This specialized orthodontic treatment uses the same mechanics as traditional braces. The difference is Six Month Smiles focuses only on the appearance of teeth in your smile zone and not on the position of your bite as traditional braces do. Moreover, Six Month Smiles uses tooth-colored brackets and clear plastic wires to move teeth, so these braces are less obvious than metal braces.
Dr. Markway or Dr. Haworth and the team at Gardner Dentists will be glad to talk to you further about how Six Month Smiles can provide you with the solution you need to enhance your smile. If you always wanted to take care of those minor imperfections in your smile, then contact us to find out more about Six Month Smiles.
Traditional Orthodontics
For patients whose smiles present more complex orthodontic requirements, nothing beats traditional braces. The mechanics of metal brackets and wires have held up against the test of time and have proven repeatedly—with millions of straight and gorgeous smiles—they work.
When the reliability of traditional orthodontics is the best choice, Gardner Dentists offer Tip-Edge braces. Similar to conventional braces because they use metal brackets and wires, Tip-Edge uses light forces to move teeth faster.
Whether you are interested in braces for yourself or another member of your family, Gardner Dentists is sure to be able to help you achieve the goal of straighter and healthier smile. Dr. Markway and Dr. Haworth can evaluate your unique orthodontic needs to determine which treatment option would be best for you.